Operates continuously without worry
With our Cybersecurity solutions!
that give you security improving your and tranquility than you company needs.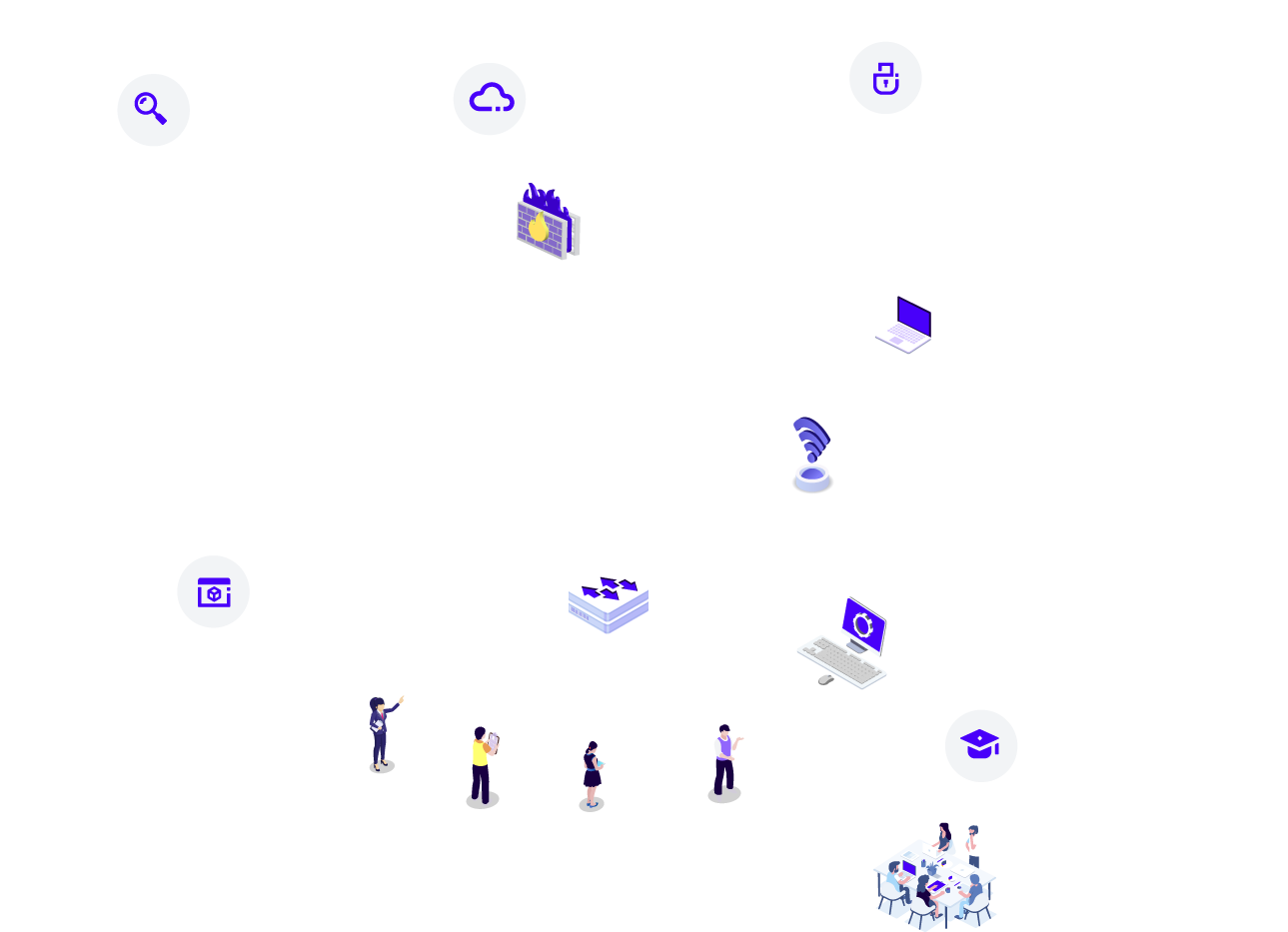 Operates continuously without worry
With our Cybersecurity solutions!
that give you security improving your and tranquility than you company needs.
Protect your company network with devices UTM what are you offering and protect your data, improving your organization´s performance so that always be in control.
The end user is one of the preferred entry points for attackers, who, through identity theft or social engineering tools, seek to violate the security of your company. For this reason, it is recommended to structure the organization's security program in layers, starting with the protection of the user's device, their access to critical information or applications through multi-factor authentication and protection against threats of identity theft with DNS filters.
Our endpoint protection solutions have state-of-the-art features that secure both servers and end-user computers against known attacks, such as zero-day threats, ransomware, and in-memory malware execution.

Endpoint's protection solution goes further, making it possible to protect the use of devices against USB connections, bluetooth connections, control users' web browsing regardless of their location, and generate detailed reports on the equipment and software they have installed.

In addition to this, with additional modules that use the same agent, you can complement your solution to have hard disk encryption, centralized patch management, or advanced reports.
Have you ever wondered where your users are using the same corporate access password? What happens if that username and password information falls into the wrong hands? Could anyone access your applications with only a username and password?
Protect your company information and your IT assets, ensuring that the person who is entering the access credentials confirms their identity through a second step.

The multifactor authentication solution allows you to protect your critical applications, secure remote access (VPN), remote connections (Terminal Server), and even access to users' computer equipment when they are outside the office.

Our MFA solution allows you to protect all compatible accesses, with a single license per user.
It works with an application that is installed on the mobile device, or if necessary, the possibility of a physical token is also offered.

In addition to protection, the system provides visibility through reports on user logins.
This is an automated protection and education solution, which works from the DNS queries generated by the user's computer, allowing to block phishing links, ransomware, connections to botnet networks, and other attacks.

It works with a thin client that is installed on the user's computer and protects it no matter where it is. Furthermore, in case the user inadvertently clicks on a malicious link, the tool redirects them to a training portal where they can improve their knowledge of phishing attacks.
One of the challenges that teleworking brings with it consists of knowing precisely how our remote collaborators are using their time.
Our solution allows us to know with a high level of detail what hours they are carrying out their activities, how much time they spend in each application and how much time the user's computer spends inactive.
In this way, you will be able to detect not only unproductiveness, but also those users who work after hours, or users who are overloaded or require training to be more efficient and effective.
Infrastructure and Telecommunications
The facilities of today's modern company are more similar to a shared work space (coworking) than to traditional offices where each person had a fixed position.
Flexible work is based on the premise of achieving high productivity regardless of the location. In this scenario, wireless networks play a leading role as they allow users to move while they remain connected to the company's network.
This has caused many companies to experience issues with their current wireless network solutions; slow problems, low signal in some areas and the need to change networks when moving within the company, are some of the most common.

At ITSE we seek that our clients have secure, high-performance wireless network solutions, with simple and centralized administration. We can accompany you in all stages of the project: Planning, design, implementation and maintenance of the solution.
In the era of the fourth industrial revolution, communications are the path that allows companies to interact with the world. Ensuring a stable, well-performing, secure, and fault-tolerant data network are some of the challenges facing IT administrators today.
At ITSE we accompany our clients in the process of improving their data network, with our complete offer of products and services.
We understand that not all companies can have their servers in the cloud, whether due to application requirements, security measures or industry regulations.
At ITSE we have the human team and alliances with the main manufacturers, to offer you the best solution.
IP telephony solutions facilitate voice communications for the entire company, regardless of the location of the users.
Our IP telephony solution is a robust and multifunctional platform that operates locally or from a server in the cloud.
Differentiating features:
Access control systems are a physical security tool for companies, which automate the process of allowing or denying the passage of people to restricted areas within the organization. In addition to this, they allow traceability of who crossed through any of the access points and at what time. Our access control offer consists of a business-class solution that allows users to be identified using access cards, as well as their biometric information (fingerprint or facial recognition).
We have the experience to accompany you in the process of design, implementation and maintenance of your access control solution.
The evolution of communications networks allowed video surveillance systems to make the transition from the analog world to the IP world, this step was important to improve the image quality offer, as well as to add advanced features on cameras and devices. of recording.
The main challenges that companies face with their CCTV-IP systems are:
in ITSE We work with video surveillance equipment IP (CCTV-IP) high image quality and functionalities according to the needs of our customers. We can accompany you in all stages of your project (Design, implementation, migration, configuration, support and maintenance).